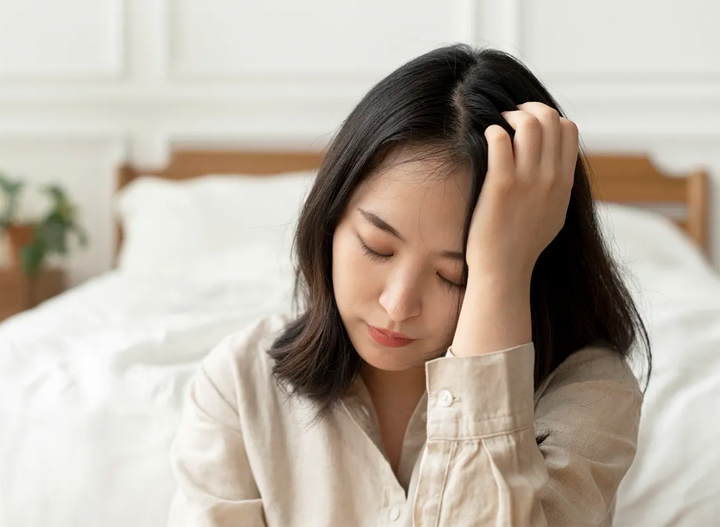 WHAT CAUSES & TRIGGERS PSORIASIS?
Psoriasis is a complex disease, with both genetic and environmental contributors. The precise cause is not yet understood, in fact even the genetics of the disease are not fully understood. It is an inflammatory condition though, which means your immune system is reacting to stimuli to cause the characteristic patches seen on the skin. Environmental factors play a role too, with stress, infections, alcohol, smoking, medications and obesity all potentially contributing to the condition and causing flare-ups.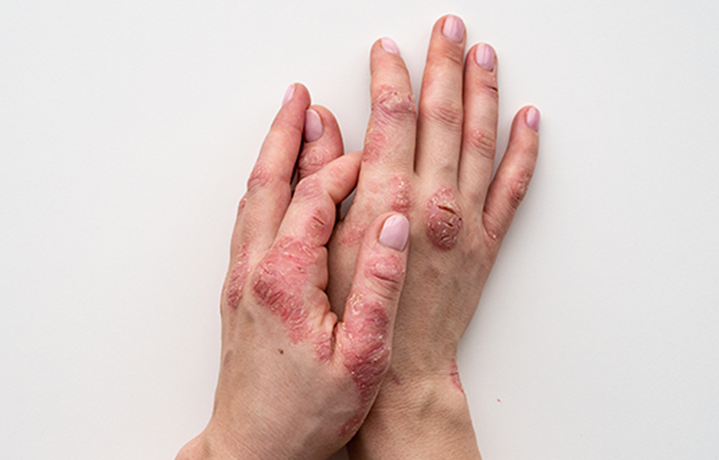 WHAT ARE THE SYMPTOMS & SIGNS OF PSORIASIS?
Mainly it is a red, raised rash with a silvery, scaly surface, that can be very itchy. There are different types, each of which has a different type of rash, and sometimes the joints and other organs are involved.
How does suu balm help with Psoriasis?
We understand how persistent itch and sleepless nights could affect your quality of life. Our products have been developed to help.
Using Suu Balm as a Treatment to Relieve Psoriasis
Living with psoriasis skin is tough because you know that it's a long-term skin condition and that there's no psoriasis cure.
Collapsible content
Using Suu Balm as a Treatment to Relieve Psoriasis

Psoriasis skin normally appears on the scalp, knees, elbows, neck and lower back. Those who have this skin condition can also experience psoriasis on the face and also other parts of the body. Thankfully, there are various psoriasis treatments you can opt for including using topical treatments to treat psoriasis on the skin, and we recommend you to try out Suu Balm's high-performing and ultra-gentle products as your psoriasis skin treatment. From scalp psoriasis treatment to face or body moisturiser for psoriasis, Suu Balm's range of head-to-toe products are formulated with zero preservatives, parabens, SLS, SLES, fragrance, soap and other harsh ingredients. Suu Balm's body care, scalp care and facial skin care treatment for psoriasis in Malaysia is designed to provide soothing and rapid relief to psoriasis skin.
Soothing Body Wash for Psoriasis Skin Treatment

The Suu Balm Dual Cooling & Moisturising Cream Body Wash is a body wash designed to nourish and provide relief even for those with psoriasis skin condition. This shower cream is an ideal psoriasis skin treatment as it leaves skin feeling soothed, moisturised and refreshed with its dual cooling and moisturising formula. This gentle body cleanser matches the skin's natural pH and contains five moisturising ingredients, including rich shea butter and sodium hyaluronate. Whereas the hint of natural menthol soothes and provides cooling relief for those who suffer from psoriasis skin disease.
A Revitalising Skin Lotion for Psoriasis & Moisturising Cream Suitable for the Entire Body

Whether it's to follow up with your shower routine or to apply any time of the day, Suu Balm Rapid Itch Relief Moisturiser is one of the best skin lotions for psoriasis and makes the perfect psoriasis skin treatment pairing with Suu Balm's body wash. So if you're searching for a psoriasis treatment lotion, Suu Balm Rapid Itch Relief Moisturiser is great for those who suffer from psoriasis skin disease because of its lightweight and non-sticky formula. Whether you have psoriasis on your neck, psoriasis on your elbows, psoriasis on your knees or psoriasis on your feet, it's an ideal body lotion for psoriasis to apply all over the body, even in hot and humid weather. This skin lotion for psoriasis also contains menthol that provides rapid, cooling relief to your psoriasis skin in 5 minutes and has 5 types of skin-identical ceramides that replenish the skin barrier. Moreover, the skin-identical ceramides also work to lock in optimum moisture in the skin that helps relieve psoriasis skin problems by preventing further dryness and itching, effectively breaking the itch-scratch cycle to prevent further damage.
Upgrade Your Skin Care for Psoriasis with a Moisturising Facial Wash

The Suu Balm Gentle Moisturising Facial Cleanser is suitable for those who have psoriasis on the face. This ultra-gentle face cleanser for psoriasis skin not only thoroughly cleanses the face but also contains a rich and creamy shea butter formulation, which provides the moisturising goodness and pampering that your skin deserves while soothing psoriasis on the face. Formulated by the National Skin Centre in Singapore without any nasties like soap, SLS, SLES, parabens, preservatives and fragrances, this facial cleanser has unique water retaining technology and doesn't leave your skin feeling tight after washing too.
Follow up with a Face Moisturiser for Psoriasis

After cleansing your face with the Gentle Moisturising Facial Cleanser, follow up your skincare for psoriasis with the Suu Balm Cooling Itch Relief Facial Moisturiser. This award-winning moisturiser for psoriasis might just be one of the best face moisturisers for psoriasis skin to incorporate into your skincare. Its nourishing ingredients contain a combination of ceramides, northern truffle and safflower extracts that work together to moisturise psoriasis skin and soothe psoriasis skin problems while providing rapid cooling relief to soothe any facial irritation or redness almost instantly. After each use, the skin barrier is restored to a healthy state, leaving your patchy and psoriasis skin condition looking and feeling relieved! So, if you have psoriasis on the face, this facial moisturiser for psoriasis is also gentle enough to be applied even on psoriasis on the eyelids without stinging the eyes. The best part is that the Cooling Itch Relief Facial Moisturiser is a non-sticky and lightweight formulation, making it a great moisturiser for psoriasis skin. This means that this face moisturiser for psoriasis is suitable to be applied daily in Malaysia's hot and humid climate.
Moisturising Scalp Spray as a Scalp Psoriasis Treatment

One of the most common and challenging psoriasis skin conditions to treat is scalp psoriasis. If you're on the lookout for a scalp psoriasis treatment because you suffer from psoriasis on the head and scalp, look no further than the Suu Balm Rapid Itch Relief Scalp Spray Moisturiser. The Suu Balm Rapid Itch Relief Scalp Spray Moisturiser is a fast itch-relieving scalp spray moisturiser suitable even for those who suffer from psoriasis skin problems and is especially ideal for those who have dandruff, itchy and dry scalp, and psoriasis on the scalp. One of the great things about this product is that it contains no drying alcohol, parabens, preservatives and fragrances, which are ingredients that are known to worsen psoriasis skin conditions. Also, this handy eczema spray contains natural cooling menthol to relieve itch in 5 minutes so you can bring it with you anywhere to spray it anytime for rapid soothing goodness – suu-per convenient! Its skin-identical ceramides help repair skin barrier and keep your scalp moisturised too. Formulated with only the most nourishing and psoriasis-friendly ingredients, the Suu Balm Rapid Itch Relief Scalp Spray Moisturiser is definitely a must-try scalp psoriasis treatment.
Relieve Your Psoriasis Skin Problems Now! Enjoy Suu Balm's Free Shipping & Interest-Free Instalment Payment Options

Suu Balm is here to be your skin's 'suu-per' hero and bring soothing relief to your psoriasis skin disease with a range of effective scalp care, body care and skin care treatments for psoriasis in Malaysia! What are you waiting for? Purchase them online now to enjoy free nationwide shipping and an interest-free instalment payment option.
Recommended Products for Psoriasis
Choosing a selection results in a full page refresh.